I am asked quite frequently: I have downloaded this and this deck and now what do I do. For all of you who have never before installed a deck I created this page. On this page I will give you a step by step instruction of how to install the decks on these pages.
1. Download the file you would like to use by clicking on the image. You can either simply click on it, or if that will not work for you, rightclick and select "save target as". If you clicked on it a window will popup asking you if you want to open it or save it. Click either one of them depending on your preference.
2. If you have saved the file, you need to execute it by clicking on the file where you installed it. If you clicked open you can skip this step.


3. If you got this far this window will popup. Click <<Yes>>.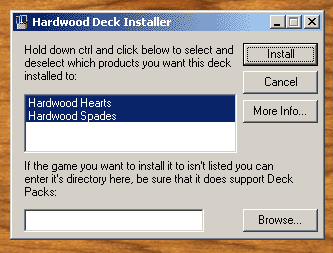 4. You can simply click on the <<install>> prompt. Or you can select the games on the left first. The default is to install to all of your games so you do not need to bother with it.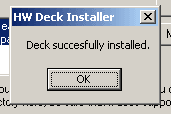 5. Now a message will appear that you have successfully installed the deck. But you are not finished yet!!
6. If you still have the game running you need to quit it and restart your favorite game.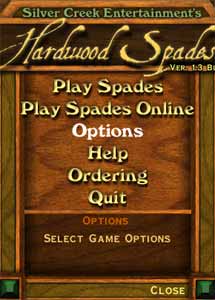 7. In the games main menu select <<Options>>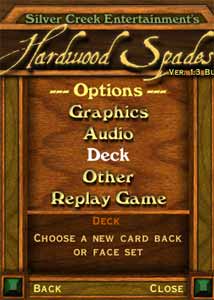 8. In the next menu select <<Deck>>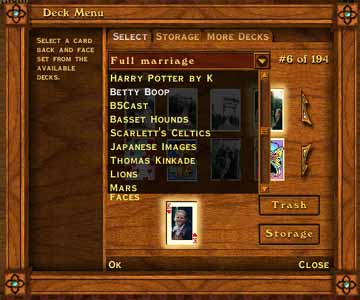 9. Select the deck you wish to use in the list. I hope it will be easier at your place because you probably have less decks installed. Unfortunately the decks are not ordered alphabetically. I am now selecting Betty Boop.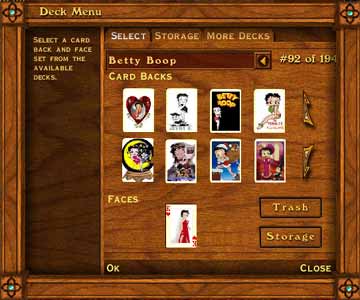 10. I have selected Betty Boop but I still need to select the back and face card I wish to use. Click on the cardback and faceset you wish to use. It is possible to use the backs of one deck with the faces of another. (I will select the only face and the left lower back).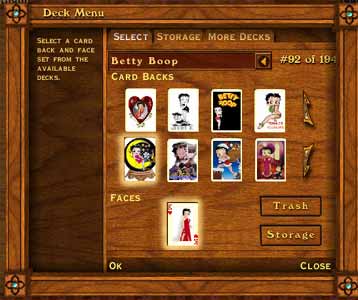 11. As you can see the difference with the previous image is that now two cards have been selected. They are kind of highlighted. If it looks similar at your place, you only have to click OK. and you are finished.
I will give you one last tip if you want to enjoy looking at your decks even more. Go to the <<options>><<graphics>> section and select 2D. This way the images are not rotated and they look a bit better. You can watch them a little bit longer if you set the animation speed in <<options>><< other>> a bit lower.